German To English Dictionary App

Your guide to the best German to English dictionary apps for iOS and Android
German translation has come a long way in a short time, and digital tools are now a part of every translator's toolkit.
As well as computer-aided translation (CAT) tools, and machine translation, they include German dictionary apps.
This article covers:
When you're translating at your desk, you'll be better off having a hardback Collins or Oxford German dictionary at hand, for easy and authoritative refence to up to 900,000 terms, plus specialist dictionaries and online glossaries. 

But when you're on the go, need to quickly check a term in conversation, or reading your ebook, having access to a German to English dictionary app on your smartphone or tablet is a great help.

So, as part of this dictionary series, I've taken a look at the best dictionary apps for Android and iOS. Some are free, with ads and in-app purchases, some you need to buy.

I've tried to find dictionaries which draw on their own authoritative linguistic corpus, rather than on Google Translate or similar. But often it's a bit hard to tell.
Naturally, everyone's experiences and expectations differ, so I've included a few of the online reviews, too.
TIP! Several of my recommended online dictionaries are also available as apps to download from the Google Play Store or Apple App Store. They include Leo, which I have on my smartphone, as well as Linguee, and dict.cc.
1. Ascendo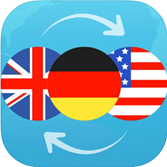 Ascendo German English dictionary
Rating: 4.9/5 (iOS) – new version rated 5/5 but few reviews currently.
Installs: over 1,000,000 (Android)
Price: Choose from the free (with ads) or paid versions (US$9.99 – for Android)
"The #1 German English Translator & Dictionary for iPhone, iPad & Apple Watch", it also seems to be the top-rated German dictionary app for Android.
Key features:
According to the developers, the Ascendo German English Dictionary by VidaLingua "transforms your Android phone or tablet into an advanced language interpreter, always ready to help. It includes everything you need in one free app and features you won't find anywhere else such as adding words, notes and images to the dictionary.
Premium versions make VidaLingua the most comprehensive German English Dictionary for Android."
Combines AI with human intelligence and is bursting with features. As well as phrasebooks, quizzes, and flashcards, they include:
• German English Dictionary with over 648,000 offline entries.
• Photo Translator. Take a picture and translate any text in the image.
• Voice Translator. Say a phrase in one language and translate it to another.
• Text Translator. Type or copy text and generate accurate translations.
• iPad Split Screen support so you can drag & drop words from other apps into German Translator & Dictionary + to translate them.
• Apple Watch support with voice lookups so you can say a word and find translations quickly.
Developer:
This is one of a series of bilingual apps offered by VidaLingua, and it gets good reviews. Users seem to value it for ease of use and comprehensiveness, and for its clear and simple layout.
Sample reviews:
According to Apple, it is "trusted by millions of users who have given it the highest ratings of any app in its category".
"I've tried several dictionaries/translators. This is the best I've found. And they keep improving it!"
"Great app for German learners:  I use this app daily as a reference while teaching myself German. The dictionary is fairly extensive and easy to search through. The verb conjugations are also excellent because it has all the forms you could ever want."
"Bilingual dictionary apps from VidaLingua are hugely popular... they're free and they work offline, handy when you're actually abroad." New York Times
2. Bravolo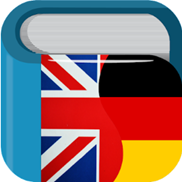 Bravolol German English Dictionary and Translator
Rating: 4.6/5 (iOS)
Installs: 100,000+ (Android)
Price: Free
Key features:
Detailed word definitions & example sentences
Related search suggestions
Advanced sentences analyzer
Favorite words & search history
Flashcards for self-learning support
Customizable font sizes for better readability
German, English & wildcard character search support
German, British English & American English pronunciation with phonetics
Developer:
Bravolol, publishers of a series of bilingual dictionaries and phrasebooks designed for language learners.
Sample reviews:
Over 3000 reviews for Android, including:
"The numerous word usage and sentence examples and voice over are a great help for learners, for learning pronunciation, and translating."
"Light and stable for budget phones, informative, and well designed."
"Very good app. Lots of words/phrases that you would need in everyday use. I like the fact that I can type in my own sentence, have it translated and I'm able to hear it. Great for learning/practising German."
On Apple:
"So easy to use: The translations are almost always correct. It's easy to use - even offline. I recommend it to both students and travelers."
"Best dictionary out there! I've been on two trips to Germany, each of several month's duration. My German is beginning B2 level - this app has been a constant companion."
"In trying to improve and polish my German using an iPad, I find this dictionary most useful. I can toggle to it to find a word, then toggle back to the article I am reading. After completing the article I can return to the dictionary and use the history feature to review all the words I looked up, as well as review many common expressions and idioms that use that particular word. A very helpful app indeed."
3. Ultralingua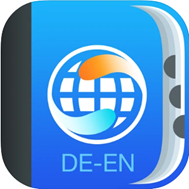 Ultralingua German English
Rating: 4.6/5 (iOS)
Price: USD 15
Key features:
"For serious language students and translators who are looking for more precision." - The New York Times
This German to English dictionary app sounds sufficiently advanced to replace a heavyweight, paper version.
• Over 95,000 dictionary entries with 295,000 translations
• Tap-and-hold any word or phrase and choose "Speak" from the popup menu to hear that word spoken using Apple's built-in text-to-speech feature.
• Noun genders
• Slang, technical language, and regional differences in spelling and usage
• Hundreds of usage notes about troublesome constructions
• Smart search results in case you misspell or mistype
• Search-as-you-go displays words and narrows your selection as you type
• Verb conjugations for thousands of German and English verbs, including all standard tenses and forms

• Must-have reference tool for any student or language professional
• Translate numerals into German and English text with the number tool
• Language swapper button to switch from German-English to English-German
• Tap the history button to view the 50 most recent dictionary definitions, verb conjugations, and more in one place. Sort the list alphabetically or by date, and choose to clear the list completely or delete one entry at a time.
• No internet connection required
Developer family:
Ultralingua, Inc., who publish a series of bilingual dictionaries (English, French, German, Italian, Portuguese, Spanish)
Sample reviews:

"I purchased this app over 5 years ago and I've gotten more value out of it than any other by far."
"Similar to the French - English dictionary, which I've used for years, the German Ultralingua dictionary is equally excellent."
"Although many have commented on the high price of these Ultralingua Language Dictionaries, they really are top quality applications."
"Best software dictionary I've ever used.  As an English speaker living in Germany, I have used several electronic dictionaries; from dedicated hardware to programs on PalmOS. The ease of use of this one, along with the ability to conjugate verbs (in BOTH English and German) raises it far above all the others. At the same price as a paper dictionary, but triple the functionality makes this a program that stays in my Home screen."
4. Eflasoft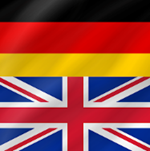 Eflasoft German English dictionary & education
Installs: 50,000+ (Android)
Price: Free, with ads, and in-app purchases, to date.
Key features:
The database includes English → German 134,000 words and phrases, and German → English 102,000 words and phrases.
You can make voice calls with "Speech recognition" feature.
Sorts the meanings of the word according to the frequency of usage
See and listen to word use with examples.
Voice translation with speech recognition feature
Developer family:
Eflasoft, dictionaries for language learning, also publishes French and Spanish dictionaries
Sample reviews:
Reviewers appreciate the many language learning games, quizzes and exercises included in the app to make learning fun.
"It's simply the best English-German app I have come across. It helps you learn Deutsch in all aspects. You can translate words or sentences, has a dictionary, has similes, you learn a new word every time you open the app, helps you learn new words with fun alone. Es ist super!"
5. Farlex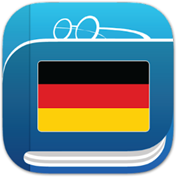 Farlex German Dictionary & Thesaurus
Rating: 4.7/5 stars
Installs: 1,000 +
Price: Free, with in-app purchases
Key features:
German dictionary and thesaurus plus German to English translations and an offline dictionary.
Play audio pronunciations of words, save unlimited bookmarks, and use advanced searches.
* 101,000+ German definitions, including verb conjugations, all from authoritative sources.
* 58,000+ words available in the free offline German dictionary. No additional downloads required!
Developer family:
Based on TheFreeDictionary.com, the Farlex flagship app.
Sample reviews:
Gets good reviews, praised as thorough and complete, with helpful in giving examples of the words in use.
"Great classic translation dictionary. Sources are cited from well-known lexicons. Defines all the relevant aspects of a word. No ads save a little strip at the bottom. Offline and free with audio pronunciation. Great addition to my language learning software and the price is unbeatable."
6. Livio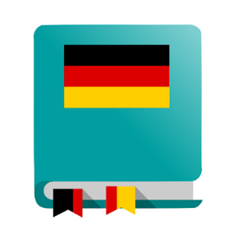 Livio German Dictionary Offline
Monolingual German dictionary
Rating: 4.6/5
Installs: over 1,000,000+ installs
Price: Free
Key features:
This free offline German dictionary Android app explains the meaning of over 124,000 German words, with definitions based on the German Wiktionary. This makes it a useful supplement to a bilingual German-English dictionary.
As it works offline, only going online when it can't find a word, your phone or tablet needs sufficient memory.
Sample reviews:
"The best German dictionary app ever, freaking helpful and user friendly. I would rate the app 1000... stars as it deserves more than just 5."
"I have been using it for years. A must-have for me. Great explanations, the origin of the words is also given which is very interesting, another plus is the translation of words in other languages (English included) in the section below."
So which German to English dictionary app do I recommend?
If you're looking for an app for occasional use when you're away from your standard German dictionary, then you'll probably find the free app versions of the Leo and Dict.cc online dictionaries are all you really need.
Don't forget, too, that you can install these online dictionaries in your browser for easy reference when working on your laptop or PC.
The apps available in the app store offer loads of additional features, many designed for language learning and keeping users motivated by offering chances to interact. So in the end, it depends what you want to use the app for.
My suggestion would be to try out a few different apps and see which you like best. If you narrow it down to one German English dictionary app, you could then go for the paid version to avoid the ads.

I hope this list of German dictionary apps is helpful, but if you know of a great software resource you think I should include, then please use the form below and let me know. Future visitors will thank you!  
Happy translating!
  Joanna

German Translation Tips & Resources

  Joanna

German Translation Tips & Resources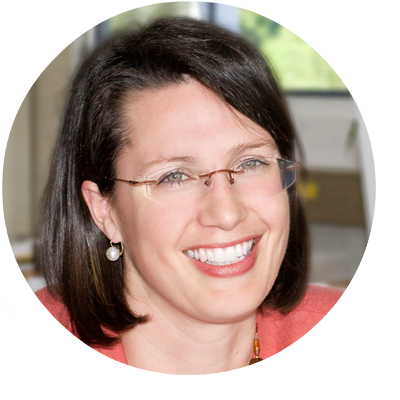 Joanna Scudamore-Trezek
I'm a German to English translator living and working in Vienna, Austria. I turn German texts into clear and accessible English, allowing clients to present their stories, ideas and information to a completely new audience. My business and marketing clients rely on me to get their message across clearly and effectively.  How can I help you today?