The German Alphabet

Your German alphabet ABC with its special letters and letter combinations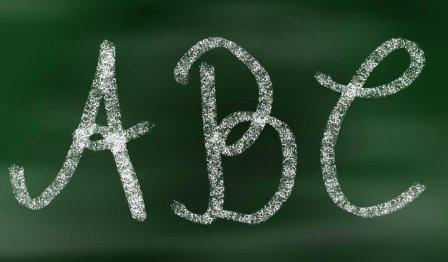 German and English are both West Germanic languages and their alphabets share a common root. This should be welcome information for anyone learning German!
Although they both have the same 26 standard cardinal letters, German has a few extra characters, as well as standard German letter combinations.
This short guide includes all the alphabet basics, plus the fun of the German spelling alphabet. You'd be amazed how often you need it in everyday German-speaking life!
---
---
Impatient to see them all?
Here's a German pangram* for you, courtesy of the free international software community KDE:
"Falsches Üben von Xylophonmusik quält jeden größeren Zwerg"
Meaning: "Wrong practising of xylophone music bothers every larger dwarf." Which of course you'll find extremely useful!

(*words or sentences containing every letter of the alphabet at least once)
The German alphabet: 26 letters

| | | | |
| --- | --- | --- | --- |
| A | AH | N | ENN |
| B | BAY | O | OH |
| C | TSAY | P | PEH |
| D | DAY | Q | KOO |
| E | AY | R | ERR |
| F | EFF | S | ESS |
| G | GAY | T | TAY |
| H | HAH | U | OO |
| I | EEH | V | FOW |
| J | YOT | W | VAY |
| K | KAH | X | ICKS |
| L | ELL | Y | IPSEELON |
| M | EMM | Z | TSET |
Disclosure: As an Amazon Associate I earn from qualifying purchases. More details here.
Return to article content index ...

German letter combinations

There are several standard German consonant combinations, each with their own, consistent German pronunciation.

| Letter combination | Pronunciation |
| --- | --- |
| Ei | EYE |
| Eu | OY! |
| Sch | SCH |
| Sp | Schpuh |
| St | Scht |
| Ch | CHUH |
| Au | OW |
Learning german?

 Join the Heinrich family to learn German & explore German culture with this great video series.
The consonant combination that German doesn't have, however, is TH.
Which is why you hear so many German speakers fighting to pronounce TH correctly in English!
When you see a German word starting with TH, simply ignore the H:
e.g. Thema ("subject") - is pronounced TAY-MA, and Theater ("theatre/theater") - TAY-ARTER
Generally, far fewer German words begin with TH than English words.
TIP!  Want to hear how a German word is pronounced? Use the free online German English dictionary Linguee. Enter the word, and then click on the megaphone icon immediately presented to its right to hear the audio recording.

Return to article content index ...

ß – The "Eszett"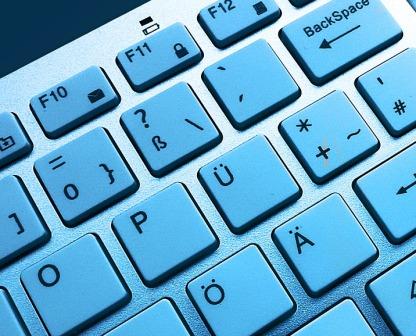 German has an additional character, the ß, called the "Eszett" or "sharp S".
(See it there on the QWERTZ keyboard? Conveniently positioned just above the umlauts...)

The Eszett ( "s-z") is simply a double "s", and is pronounced "Ess".
Note:
There is no capitalized form of ß, instead SS is used.
The ß is not found in Swiss German – only the ss is used.
You'll probably come across the "ß" most frequently in German addresses:

e.g. Lindenstraße  =  Linden Street
One of the points on my German translation checklist is always check if it includes addresses, and if so, to change the ß to ss. It's a small thing, but shows that the translator has been paying attention and is considering the target audience.
When you live in a German-speaking environment for so long, there's a real danger that the "foreign" things become so familiar that you don't notice them anymore - and that's when you start missing bits out in your translations....!
Return to article content index ...

Umlauts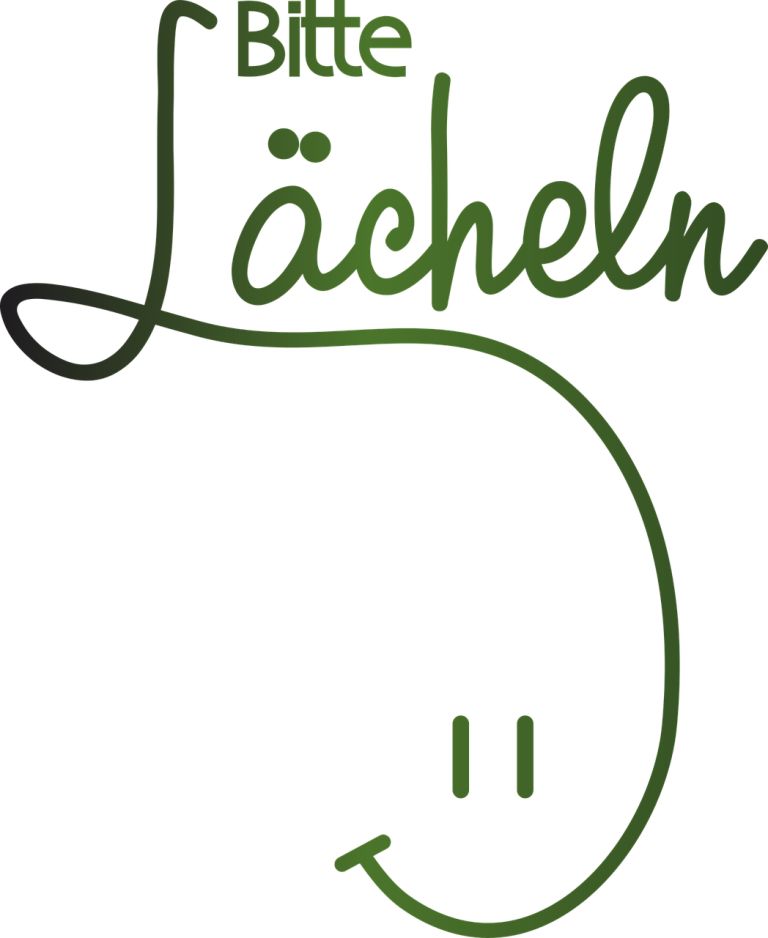 German also has 3 additional characters – ä,ö and ü, called umlauts.
These represent the shifting sounds « ae », « oe » and « ue ».
They are not regarded as separate letters of the German alphabet. (More on umlauts here)
An umlaut in action: "Bitte lächeln" = please smile!
Pronounced "laecheln".

Return to article content index ...

The German spelling alphabet

When speaking German you'll soon realise how important it is to be able to "spell out" words and letter combinations in normal conversation,

E.g. "Ich fahre ein FOW-VAY Golf" ("I drive a VW Golf")
When speaking German on the phone, it's also common to spell out words - especially names - which might otherwise be misunderstood.
Use the German version of the international radiotelephony spelling alphabet (Buchstabiertafel or Funkalphabet) as follows :

- "Mein Name ist Joanna".
- "Könnten Sie das bitte buchstabieren ?"
- "Gerne. Julius-Otto-Anton-Nordpol-Nordpol-Anton."
Letter
ENGLISH
GERMAN
A: Austria
CH: Switzerland
A
Alpha
Anton
....
B
Bravo
Berta
....
C
Charlie
Cäsar
....
D
Delta
Dora
CH: Daniel
E
Echo
Emil
....
F
Foxtrot
Friedrich
....
G
Golf
Gustav
....
H
Hotel
Heinrich
....
I
India
Ida
....
J
Juliet
Julius
CH: Jakob
K
Kilo
Kaufmann
A: Konrad
L
Lima
Ludwig
CH: Leopold
M
Mike
Martha
CH: Marie
Letter
ENGLISH
GERMAN
A: Austria
CH: Switzerland
N
November
Nordpol
CH: Niklaus
O
Oscar
Otto
....
P
Papa
Paula
CH: Peter
Q
Quebec
Quelle
CH: Quasi
R
Romeo
Richard
CH: Rosie
S
Sierra
Siegfried
CH: Sophie
T
Tango
Theodor
....
U
Uniform
Ulrich
....
V
Victor
Victor
....
W
Whiskey
Wilhelm
....
X
X-ray
Xanthippe
A:Xaver
Y
Yankee
Ypsilon
....
Z
Zulu
Zürich
(or Zeppelin)
And don't forget the umlaut and letter combination sounds (although I have to admit that I've never actually heard them used in practice!):
Letter
GERMAN (Germany)
Variations
(A: Austria, CH: Switzerland)
Ä
Ärger
CH: Äsch
Ö
Ökonom
A: Österreich,
CH: Örlikon
Ü
Übermut
A:Übel
Sch
Schule
…..
ß
Eszett
Scharfes s
Want to practice spelling out the German alphabet?

Dora-Anton-Nordpol-Konrad-Emil-Friedrich-Übermut-Richard-Siegfried-Ludwig-Emil-Siegfried-Emil-Nordpol.
Have fun!
  Joanna

German Translation Tips & Resources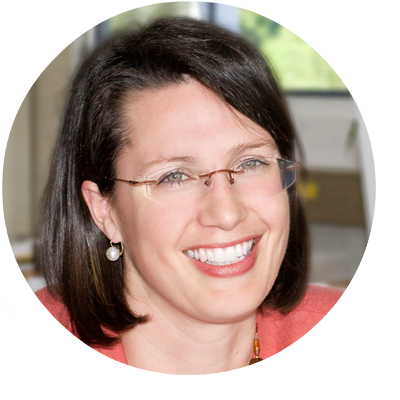 Joanna Scudamore-Trezek
I'm a German to English translator living and working in Vienna, Austria. I turn German texts into clear and accessible English, allowing clients to present their stories, ideas and information to a completely new audience. My business and marketing clients rely on me to get their message across clearly and effectively.  How can I help you today?