Computer Aided Translation Tools (CAT)

My guide to the most popular CAT tools – where to start.

This a very popular question in translator forums, and it comes with many answers.

Here I'll show you which computer aided translation tools - CAT tools - are the most popular and widely used amongst the German translation community, and give you a little information about what's on offer.
This article covers:

---
The big 5 CAT tools:
The smaller CAT tools:
Online, cloud-based CAT tools:

Open source CAT tools:

---
Whilst looking at the list below (not in any order of preference), you should think about:

How much you are willing to spend for a CAT tool? (Prices range from free to 1000+ euros)
Does the price/performance ratio make sense for my business?
Does it need to be compatible with the translator software used by my agencies/clients/other translators I work with?
Is there a conflict between using a cloud-based system and local data protection regulations?

If you're not sure how CAT tools actually work, here is a brief overview.

So here's my list, followed by my thoughts on where you should start.
1. The big 5 computer aided translation tools


SDL Trados Studio


Trados Studio is produced by SDL and is practically the industry standard in Europe.
You may find the range of products offered on the SDL website a little confusing, but the translation memory software we are considering is SDL Trados Studio 2019 - soon to be 2021 – which they claim is "one integrated environment for all your translation, review, terminology and project management needs" and is sold as means of "increasing productivity".

But it doesn't come cheap: The bottom-of-the-range version for freelancers is priced from around 600 euros.
Once you've bought the software, you can buy future upgrades for a couple of hundred euros or so. SDL sells itself as a major content and language management service provider, offering translation, localisation, globalisation and consulting services.
Not surprisingly, if you want to work with them as a freelance translator, you have to own their product. They also run courses (you pay) to teach you to use their TM and even a "certification" option, so you can prove your abilities on their TMs.
They say they've invested US$100 million in their global information management systems so they are certainly here to stay. It's also worth noting that they are making significant investments into developing neural machine translation (NMT), a self-learning system designed to cope with the global explosion in content that needs translating. Consequently, they predict huge growth in demand for machine translation post-editing (MTPE) services, which translators tend to view with mixed feelings.

memoQ
As it says on its website, memoQ translator pro is a computer-assisted translation environment tool which runs on Microsoft Windows operating system. It was designed by translators for translators, and it increases productivity and quality for all those who perform, edit and review translations.
A memoQ translator pro license currently costs 620 euros / 770 dollars. It is definitely popular here in Europe where it seems to be the main alternative to Trados.
WordfastPro 5

Wordfast Pro 5 is the latest Wordfast version.

Déjà Vu X3 Professional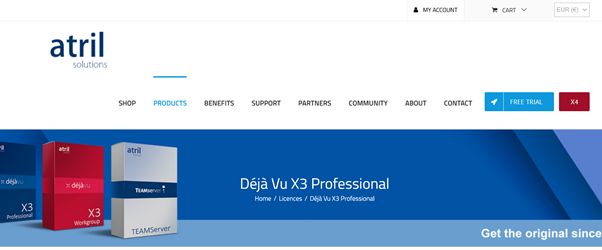 Atril's translation memory software designed for freelancers is called the Déjà Vu X3 Professional and costs around 420 euros. They do offer a free 30 day trial version to give you a chance to assess its capabilities before deciding whether to buy.
It seems popular according the customer comments on its website. Atril also hosts Transref, a directory of translators, which all freelancers can sign up to, and which announces training sessions and industry events.
TransitNXT
The STAR group offer several corporate communication products, and TransitNXT is their TM tool. It is more widely used in the US/Canada than Europe, and is regarded as a good tool for technical translations (e.g. construction drawings etc.).
It's a scalable solution, with a 12 month licence for the cheapest option, Transit NXT Freelance, currently costing around 250 dollars.
2. The smaller computer aided translation tools


Across
Across is a German-based company offering 2 major products: the Across Language Server is intended for large companies with multiple users while the Across Translator Edition is designed for freelance translators.
The basic version is free, (as is the Premium Edition for registered students) but I think very much designed for you to upgrade to the paid version, e.g. can only connect with one Across Language Server client at a time.

It's a translation memory and terminology management system which functions either as a standalone application, or as a remote client which can access a client's Across Language Servers using a temporary softkey.
CafeTrans Espresso

On the ProZ forums, CafeTran Espresso – "the feature rich CAT tool which is fun to use" – gets more positive reviews from freelance translators than any other. Its developer is himself a translator and so understands the needs of its users.
It seems to offer all the functionality of the major CATs – works on all operating systems, is compatible with SDL Trados, MemoQ and Wordfast formats, and can manage industrial-size TMs, complex formats, and support team-based collaboration.
There is also a CafeTran knowledge base of articles to help you, and a "CafeTranslators" Google group. It costs 80 euros a year, or 200 euros for 3 years. You can use its free version with limited TM volume indefinitely, or to try out before deciding to buy.
Definitely one worth considering.
3. The cloud-based computer aided translation tools


SmartCat

According to its website, "Smartcat is the all-in-one localization platform and marketplace that connects professional translators, language agencies, and global companies. Manage multilingual content creation without drowning in emails and project admin." So unlike CafeTran, for example, it is not primarily aimed at supporting the work of freelance translators.
Freelancers can advertise their translation services to clients within the SmartCat network (currently 350,000 freelancers), but if the screenshots are anything to go by, the rates available look low. However, the CAT tool itself is free, and as it's cloud based, works equally well for Windows or Mac users.
I haven't checked it out myself, but it seems well thought of on the ProZ forums. It might be worth exploring to learn how CAT tools work, but personally I'd prefer to pay for a desktop system I have more control over and can also use offline.
Wordfast Anywhere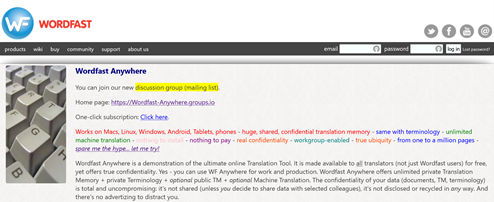 Wordfast solutions are designed to help translators save time, money and effort by storing your translations in a translation memory database and retrieving that translated content automatically for future projects. 
Since 1999, Wordfast has been committed to providing the most user-friendly and affordable TM tools on the market.
Options for the freelance translator include Wordfast Classic, a Microsoft plug-in, Wordfast Pro, a standalone solution, and Wordfast Anywhere, a free cloud-based service. I have the 3-year licence for Wordfast Pro 5 and got a good deal through a Group Buy on ProZ.
memsource
The good people at Memsource got in touch to ask me to include this cloud-based CAT tool in my translator software list, and I'm happy to do so!
I've not tried it myself, but they tell me it's an AI-powered translation management system, and compatible with Mac, Windows, and Linux systems. There is a free personal edition, and although it's more limited in function it doesn't expire (go to bottom of the page, on the left). The Team Start edition is designed for freelance translators and costs 240 euros for a year's subscription.
Memsource offers a three tiered certification program (student, certified user, and certified trainer) available for free, with the possibility to earn certificates. The combined TMS and CAT tool is entirely cloud based and "leverages the power of machine translation with dynamic engine management and patented AI technology" – which is where I think many CAT tools are heading. It can be accessed anywhere, and includes a mobile app. There is also the option to translate offline with the desktop editor.
XTM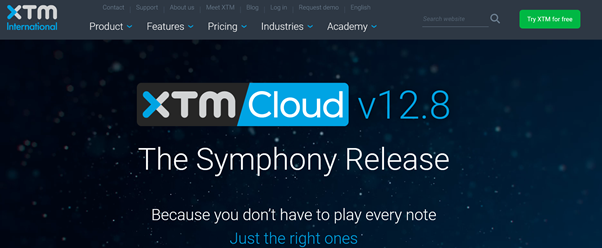 XTM is another provider of a CAT tool within a translation management system. Its cheapest option, for 2 users and max. 20,000 words a month, is currently billing at USD 61 a month, although customers can contract out services to vendors (the translator) without the vendor needing their own license.
The focus is on offering a complete cloud-based system that can manage the entire translation process (with specific roles for administrators, PMs, terminologists, TM experts, and the linguist (translator). That means freelance translators are clearly not their primary market.
I have included it here as a computer aided translation system a freelance translator may be expected to be familiar with, and to work with if given access by a client.
4. Open source computer aided translation tools


MateCat
MateCat is an open source online CAT tool. It's free for translation companies, translators, and enterprise users. It is the product of EU-funded research to, according to Wikipedia, "create a tool to edit machine translation results and manage localization workflow. The system is able to learn from mistakes, automatically improve over time and specialize in field-specific language (for example, legal terminology) to provide the user the most accurate translation suggestions in a completely automatic and transparent manner."
The idea is that machines take over repetitive and monotonous tasks and humans will focus on the creative and more complex parts of the translation process.
Vendors use it as a platform for finding available translators at competitive prices from the 120,000 translators is says are working with the platform. As it's open source and therefore free, this is an option worth exploring.
Swordfish
Swordfish is another open source CAT tool, and popular with Mac users. It can be downloaded from GitHub and used as source code for free (for the computer savvy), or you can pay USD 120 a year for a ready to use installer and online support. It is billed as a "an advanced CAT (Computer Aided Translation) tool based on XLIFF 1.2 open standard, designed for demanding professional translators."
It supports exchanging TMX (Translation Memory eXchange), the vendor-neutral open XML standard for the exchange of Translation Memory (TM) data created by Computer Aided Translation (CAT) and localization tools, originally published by LISA (Localisation Industry Standards Association).
OmegaT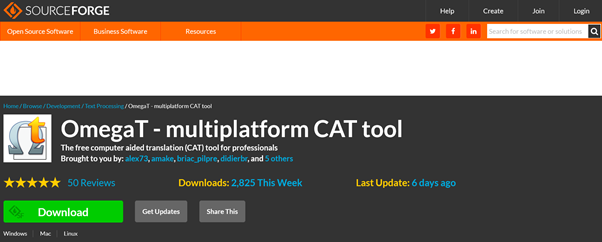 OmegaT is an exciting offering in the world of translator software – a free translation memory application designed for professional translators. Although it's open-source software, it works on Windows, macOS, and Linux. That means it's easy to incorporate into your current workflow, but if you feel so inclined, you can also modify OmegaT to suit your own requirements.
Easy to use and rich in functionality, according to the testimonials, the OmegaT team tells me it works with almost 50 different file formats, including Microsoft Office, and is compatible with other translation memory applications (TMX, TTX, TXML, XLIFF, SDLXLIFF). The software runs on Java 8, and the project itself on donations.
That makes OmegaT a good translator software option for anyone starting out in translation and learning about CAT tools, or wondering whether they really need to keep paying licence fees for their current tools.


TIP!: Online translator communities such as ProZ often host Group Buys for CAT tools – sign up and save anything up to around 40% on the costs of purchase.

openTM2

IBM TM2 was developed internally by IBM for localizing and translating their software and content into more than 50 languages, including bidirectional scripts and ideographic languages, and it has been used by hundreds of professional translators and localizers for many years. The core of IBM TM2 was made available to the open source community in 2010 and since then, the IBM development team has worked very hard to keep the solution up to date while maintaining its main strengths.
Feeling a bit overwhelmed?

One particularly helpful resource you might like to subscribe to is Jost Zetzsche's Tool Box Journal, a computer journal for translation professionals. This is a free monthly newsletter with articles on developments in the translation software industry, and Jost is a respected expert in this field.

My 2 cents?
If you're new to the game, start off by playing with a free online TM such as Wordfast's own Wordfast Anywhere, or the free OmegaT to get the feel for how translator software works.

My impression from the online forums I read is that the most popular TMs among professional freelancers are Trados, memoQ, and Wordfast. I use Wordfast Pro 5 and it does everything I need. I also use the free Wordfast Anywhere aligner for converting existing translations to feed my TM.
If you're working in an environment where your client demands you have access to top-of-the-line translation memory software such as Trados, then you probably already know it!
Increasingly, perhaps due to our COVID times, translation associations are offering their members access to free online webinars, often discussing topics such as different translator software, the pros and cons of each brand, and how to get the most out of them. That's another good reason to explore membership of your local translation association.
Happy translating!

  Joanna

German Translation Tips & Resources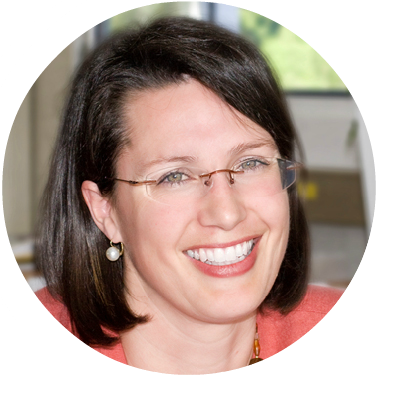 Joanna Scudamore-Trezek
I'm a German to English translator living and working in Vienna, Austria. I turn German texts into clear and accessible English, allowing clients to present their stories, ideas and information to a completely new audience. My business and marketing clients rely on me to get their message across clearly and effectively.  How can I help you today?